MagneGas Corporation a leading clean technology company in the renewable resources and environmental solutions industries, announced today that it has successfully installed a Plasma-Arc Gasification system that was previously announced as contracted ("Gasifier Agreement") for sale to Green Arc Supply, LLC of Louisiana.

As previously announced, Green Arc Supply of Louisiana, purchased a Gasifier to manufacture and distribute MagneGas2® exclusively in certain regions of Louisiana and Texas. Pursuant to the terms of the Gasifier Purchase Agreement, the Company received a total of $775,000 for the purchase of the system. The Agreement also calls for royalty payments which amount to $0.02 per cubic foot produced by Green Arc.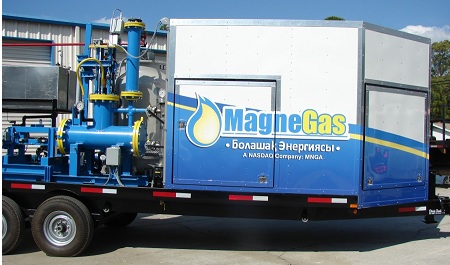 Under the terms of the Gasifier Purchase Agreement, Green Arc will have exclusive distribution rights for certain regions of Louisiana and Texas with non-exclusive distribution rights in remaining regions of Louisiana and Texas and all of Arkansas, Mississippi and Oklahoma. Green Arc has the right to expand their exclusivity in those states with the purchase of additional systems. The Company believes that entering into future agreements with Green Arc for the distribution of its products will result in significant capital infusions through additional equipment sales and receipt of royalty payments.

"We are excited to announce our first ever operating system at a customer location. We are pleased that our product continues to gain market acceptance, and we are optimistic that more equipment sales with distributors will positively impact our revenue growth in 2017 and beyond," stated Ermanno Santilli, CEO of MagneGas Corporation.


About MagneGas Corporation
MagneGas® Corporation (MNGA) owns a patented process that converts various renewables and liquid wastes into MagneGas fuels. These fuels can be used as an alternative to natural gas or for metal cutting. The Company's testing has shown that its metal cutting fuel "MagneGas2®" is faster, cleaner and more productive than other alternatives on the market. It is also cost effective and safe to use with little changeover costs. The Company currently sells MagneGas2® into the metal working market as a replacement to acetylene.


The Company also sells equipment for the sterilization of bio-contaminated liquid waste for various industrial and agricultural markets. In addition, the Company is developing a variety of ancillary uses for MagneGas® fuels utilizing its high flame temperature for co-combustion of hydrocarbon fuels and other advanced applications. For more information on MagneGas®, please visit the Company's website at http://www.MagneGas.com.

The Company distributes MagneGas2® through Independent Distributors in the U.S and through its wholly owned distributor, Equipment Sales and Services, Inc. ("ESSI"). ESSI has four locations in Florida and distributes MagneGas2®, industrial gases and welding supplies. For more information on ESSI, please visit the company's website at http://www.weldingsupplytampa.com

The MagneGas IR App is now available for free in Apple's App Store for the iPhone or iPad http://bit.ly/AfLYww and at Google Play http://bit.ly/Km2iyk for Android mobile devices.To be added to the MagneGas investor email list, please email This email address is being protected from spambots. You need JavaScript enabled to view it. with MNGA in the subject line.


Investor Contacts:
KCSA Strategic Communications
Philip Carlson
+1-212-896-1233
This email address is being protected from spambots. You need JavaScript enabled to view it.